Professional manufacturer Single Shaft Mixer for Feed industry
Product Detail
Product Tags
Single Shaft Mixer is mainly used for coating, dry powder and chemical industry Used to mix various dry powder materials metered in proportion. Also can be used to mix feed and cooperate with other feed processing equipment in medium and small-sized farms.
Applicable to the feed, food, chemical, pharmaceutical, pesticide, and other industries in the powder, granule, flake and miscellaneous materials mixing; Horizontal, batch type mixer, each batch mixing time is 2-4 minutes, especially for adding liquid mixing; equip the grease adding pipe, the overall structure is reasonable, the convenient operation and maintenance; with creative generation ribbon blade rotor structure, cv≤5%, Shaft head and end and discharging door adopt unique mature sealing technology, ensure no leakage. And the standard Chinese standard motor, domestic gear speed reducer, reducer motor belt drive.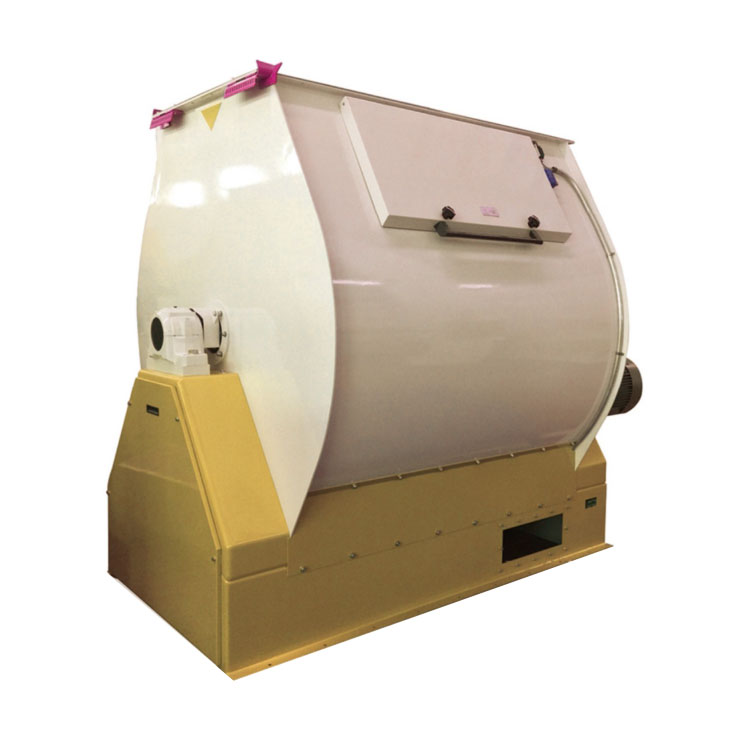 A unique pear-shaped drum with the ratio of equality of length and diameter achieves high-speed mixing. The mixing time is less than 90 seconds and the uniformity is no more than 5%.
The paddles are assembled, which can adjust the clearance of the blade and the drum. Streamlined drum, fewer transmission parts, and entire length operating door make the residual quantity less than 0.5%.
Special shaft end and door seal structure ensure no leakage.
Safety maintenance door with switches is easy to clean and access.
Adopts SKF bearing and imported seals. The gear reducer makes low noise. Smooth running, long service life.
Advantages of Single Shaft Mixer
With simple and reasonable structure, convenient maintenance, safe and reliable, high mixing evenness, short mixing time, little residuals.
Can be used as the compound feed unit for the medium and small-sized farms.
Applicable to coating, try powder, chemical industry, used to mix various dry powders metered in proportion.
| | | |
| --- | --- | --- |
| MODEL | POWER | OUT PUT (kg/batch) |
| HHJD1000 | 11/15/18.5 | 500 |
| HHJD2000 | 18.5/22 | 1000 |
| HHJD4000 | 22/37 | 2000 |
| HHJD6300 | 22X2 | 3000 |
| HHJD8000 | 45X2 | 4000 |
---
---
Write your message here and send it to us