Professional manufacturer Series Contioner for Feed industry
Product Detail
Product Tags
Feed Mash Conditioner A pellet mill consists of a (a) variable speed feeder unit, (b) conditioning chamber, (c) die-and-roller assembly, and (d) electric motor. The variable speed feeder unit is generally a screw conveyor and controlled with a variable frequency drive (VFD). The purpose of the feeder is to provide a uniform flow of mash into the conditioner. The feed quality, pellet durability, and power, requirements of the pellet mill are significantly influenced by the effectiveness of the conditioning process. Short-term conditioning generally occurs in a mixer mounted on top of the pellet press.
Conditioners provide you the optimum preparation of feed stuffs prior to pelleting. The optimum conditioning of feed ensures you to get the highest performance out of a CPM pellet mill. The gain of good conditioning is a higher production throughput, better pellet durability and improved digestibility at reduced pellet mill power consumption. This makes it very worthwhile to study which Conditioner suits your production requirement best. All the CPM conditioners are made from stainless steel, have a very stable design and allow an easy installation on top of the pellet mill. A specially designed feeder screw feeds the conditioner with a controlled product quantity. A permanent magnet between the feeder screw and conditioner provides extra safety against tramp metal. The conditioner is equipped with a specially designed mixing shaft. The mixer barrel provides special inlet ports for steam, molasses and other type of liquids.
Total stainless steel, suitable for the production Of normal poultry & livestock feed.
Lengthened design, long curing time and Excelentconditioning effect.
Large entire length operate door, easy to access and clean.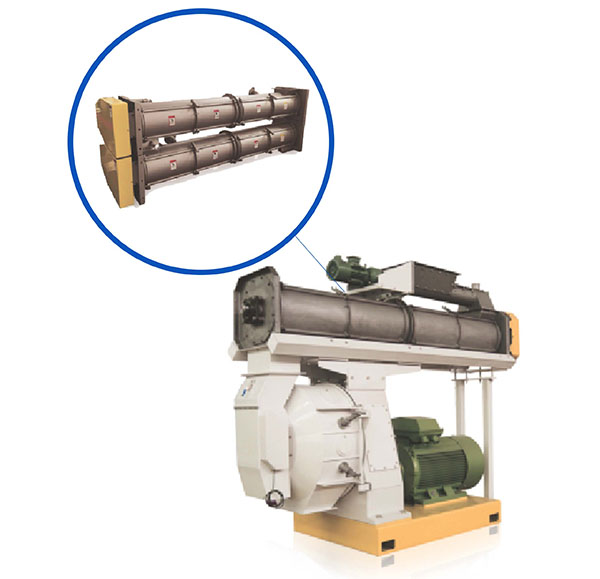 | | | | |
| --- | --- | --- | --- |
| MODEL | POWER(KW) | CAPACITY (t/h) | Remark |
| STZJ380 | 7.5 | 3-12 | CONFIGURE THE SZLH400/420 PELLET MILL MACHINE |
| STZJ420 | 11 | 4-22 | CONFIGURE THE SZLH520/558 PELLET MILL MACHINE |
| STZJ480 | 15 | 10-30 | CONFIGURE THE SZLH680/760 PELLET MILL MACHINE |
---
---
Write your message here and send it to us