Professional manufacturer Series Heat Retaintioner for Feed industry
Product Detail
Product Tags
Pelleting of animal feed occurs extensively throughout the feed manufacturing industry and steam conditioning plays an important role in this process. electrical energy consumption, and steam flow rate during the pelleting process. Results of this study indicated that pellet quality, energy consumption, and stream flow were significantly related to mash moisture (12 and 14%), retention time (short and long), steam quality (70, 80, 90, and 100%), and their interactions in mash conditioned to a constant 82.2 °C. The maximum pellet quality (88% pellet durability) was achieved with two combinations of steam quality and retention time (70%-short retention time, 80%-long retention time) for the 14% moisture mash using the CPM conditioner. A long retention time resulted in the lowest energy consumption (kWh/t) during pellet production for the 12% moisture mash with the Bliss conditioner. Feed conditioned to 82.2 °C using 100% quality steam required a lower flow rate (kg/h) than did the 70% quality steam for both conditioners.
Conditioners provide you the optimum preparation of feed stuffs prior to pelleting. The optimum conditioning of feed ensures you to get the highest performance out of a CPM pellet mill. The gain of good conditioning is a higher production throughput, better pellet durability and improved digestibility at reduced pellet mill power consumption. This makes it very worthwhile to study which Conditioner suits your production requirement best. All the CPM conditioners are made from stainless steel, have a very stable design and allow an easy installation on top of the pellet mill. A specially designed feeder screw feeds the conditioner with a controlled product quantity. A permanent magnet between the feeder screw and conditioner provides extra safety against tramp metal. The conditioner is equipped with a specially designed mixing shaft. The mixer barrel provides special inlet ports for steam, molasses and other type of liquids.
Uses all stainless, longer type and large entire length operate door.
The shell adopts jacket steam heating and the operating door adopts "Hot Armour "to heat, which makes the curing time much longer, the curing effect more even and the maintenance more convenient.
Suitable for producing pork feed, creep feed and high-grade aquaculture feed.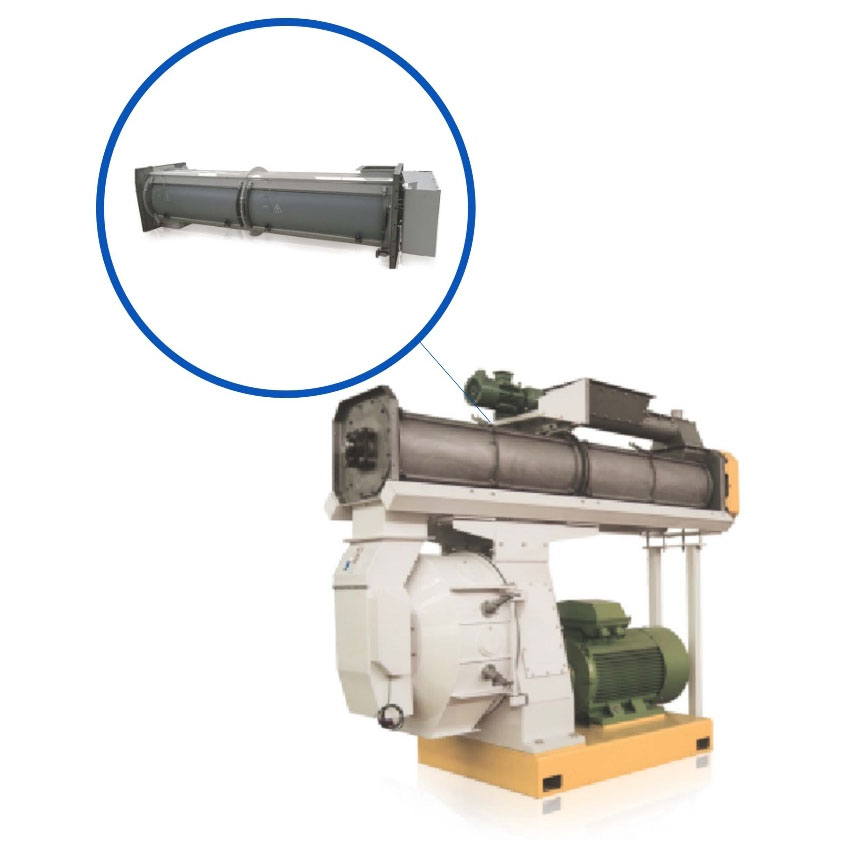 | | | | |
| --- | --- | --- | --- |
| MODEL | POWER(KW) | CAPACITY (t/h) | Remark |
| STZR1000 | 7.5+3 | 3-12 | CONFIGURE THE SZLH400/420 PELLET MILL MACHINE |
| STZR1500 | 11+3 | 4-22 | CONFIGURE THE SZLH520/558 PELLET MILL MACHINE |
| STZR2500 | 15+4 | 5-30 | CONFIGURE THE SZLH680/760 PELLET MILL MACHINE |
---
---
Write your message here and send it to us